This post is part of Just Ahead's Death Valley Trip Planner—our guide to everything you need to know to plan your trip to Death Valley National Park. Click here to see the complete series, and be sure to download our Just Ahead smartphone audio tour of Death Valley before you head to the park.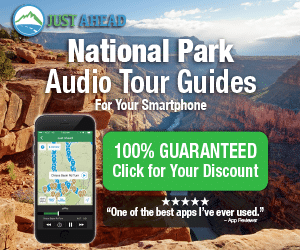 Before you decide how much time to spend in Death Valley National Park, it's good to be aware of two things: First, Death Valley is the largest national park in the lower 48 American states (yes, bigger than Yellowstone). Second, Death Valley is remote. That's a huge part of its appeal. It's at least 2-1/2 hours from Las Vegas, five hours from Los Angeles, eight hours from San Francisco.
It would be a shame to drive such a distance and spend less than a day in such a huge, magnificent park. But we understand that everyone has their own way and their own schedule, so here's our rundown of what you can do and see in Death Valley in the amount of time you might have. Remember, no matter how much time you have or what approach you take to the park, Just Ahead will guide you every step of the way.
Death Valley in Less Than a Day
We understand that you'll see some of the park as you approach, and that there are several different approaches, so take these as general guidelines. And remember that the order in which you see things isn't important.
If you're simply doing a drive-through, you'll want to beeline to Furnace Creek in the heart of the park—the hub of Death Valley's road spokes. Spend 45 minutes in the visitor center to get oriented, see the exhibits, perhaps see the park's film. Drive down to Badwater and experience the lowest place in North America. Turn around at Badwater and take the scenic Artist Drive on the way back up. Then head east on Highway 190 and take in the awesome views from Zabriskie Point and Dante's View.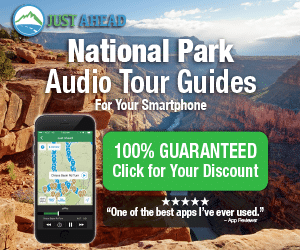 Death Valley in One Long Day
If you have a full day in the park and you're willing to push a bit, you can see everything described above—Furnace Creek, Badwater, Zabriskie Point, and Dante's View—and you can make the drive north to tour Scotty's Castle. Take both castle tours if you can: the essential Living History Tour of the castle itself, and the Underground Tour, which explores "secret" tunnels and some advanced technology from the late '20s and early '30s. Click here for information on tour reservations. Then head over to nearby Ubehebe Crater—an immense crater surrounded by a barren landscape of volcanic cinders. As you drive, Just Ahead will point out all the sights along the way and tell you stories that will whet your appetite for seeing Scotty's Castle and Ubehebe Crater.
After Ubehebe Crater, you will probably reverse course and backtrack down to Furnace Creek. Same experience as before? Nope—Just Ahead will tell you a completely different set of stories on your way back down.
Just Ahead Makes Seeing Death Valley Simple
All of these itineraries and suggestions are just that: suggestions. No matter where you drive in Death Valley, Just Ahead not only points out the major sights and landmarks; we also tell you about side trips and hikes. And we tell you how long each experience will take. And we tell you what we think the must-see sights are. It's like having a friendly tour guide along for the ride—one who has been to the park many times, knows it, loves it, and loves sharing it with you. Just Ahead makes seeing Death Valley exciting, enjoyable, informational—and simple.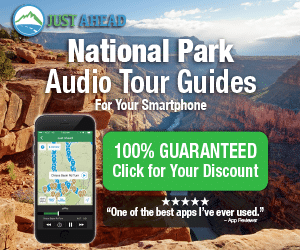 Death Valley in Two Days
With two full days in the park, you can do everything we've suggested above and add time to get out, walk, and explore sights along the way, such as Devil's Golf Course and Golden Canyon on the way to or from Badwater. And Harmony Borax Works and Salt Creek on the way to or from Scotty's Castle. You can also drive 20 Mule Team Canyon after you see Zabriskie Point. You can dash over toward Stovepipe Wells to see the Mesquite Flat Sand Dunes. Two days give you a slightly more relaxed and invigorating experience of the park.
Death Valley in Three Days
Now we're talking! Three days in the park allows you time to see most of its major sights—from Furnace Creek down to Badwater, out to Zabriskie Point and Dante's View, up to Scotty's Castle and Ubehebe Crater, and out to the Mesquite Flat Sand Dunes and Stovepipe Wells—with a fair amount of time to see other sights along the way and take some great short walks. Explore on foot the multiple hues of Artist's Palette, the nature trail at Golden Canyon, the salt-pan floor at Badwater, the narrow corridor of Titus Canyon.
Or, with three days, you can do our two-day suggestions with few stops, and then add in a visit to the high country, which requires most of a day. By following Emigrant Canyon Road to Wildrose Canyon, you can catch one of the park's most awe-inspiring views from Aguereberry Point. You can see the amazing stone Charcoal Kilns, strung out like eight giant beehives, each 25 feet tall. Poke around the ruins of Eureka Mine. And drink in the pinyon-scented air of the Panamint Mountains.
Death Valley in Four or More Days
With four or more days in Death Valley National Park, there's little need to rush. See the major sights and spend a day in the high country. Go for short and long walks. Watch the rising sun cast a glow on the badlands at Zabriskie Point. See Cathedral Rock in Golden Canyon shine a crimson red in late afternoon light. And perhaps watch a full moon illuminate the Mesquite Flat Sand Dunes. You might even get in a round at the world's lowest golf course, and have time to relax at your campsite or around the swimming pool at Furnace Creek Ranch or Inn. You can take the drive over Towne Pass to the west and see Panamint Dry Lake and a stellar view from Father Crowley Viewpoint.
With this much time, you can do some of the park's stellar day hikes, like out to Darwin Falls—yes, a 25-foot waterfall that tumbles into a cool, clear pool in the middle of the park. Or if you're game, take on the 4.2-mile walk to the top of Wildrose Peak (9,054 feet). Just Ahead guides you to all of these sights, and we make many more suggestions as you drive along. With four or more days in the park, you'll settle in, let the desert and mountains fill your senses, and feel both relaxed and inspired to see what's just ahead.
For our complete Death Valley Trip Planner series, click here.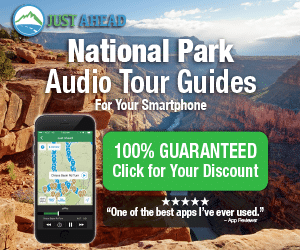 No matter how much time you have to spend in Death Valley National Park, don't forget the most useful resource you can bring along—the Just Ahead app. Just Ahead turns your smartphone into an audio tour guide that will guide you to the park and all of its best landmarks, hikes, viewpoints, and side trips. It's the best way to get the most from your visit.
Click here to try Just Ahead for free
.