This post is part of Just Ahead's Sequoia and Kings Canyon Trip Planner—our guide to what you need to know to plan your trip to Sequoia and Kings Canyon National Parks. Click here to see the complete series. And be sure to download our Just Ahead smartphone audio tour of Sequoia and Kings Canyon before you head to the parks.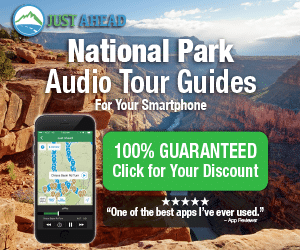 Sequoia and Kings Canyon National Parks have 14 campgrounds, most of which are first-come, first-served; no reservations. A few accept reservations through recreation.gov. Most of the campgrounds accommodate RVs, but none of them have RV hookups. Campgrounds provide storage lockers to protect your food from bears and other hungry park creatures. You'll also find camping in Sequoia National Forest and Giant Sequoia National Monument, both of which are adjacent to the parks.
Foothills Area, Sequoia National Park
South Fork
Tucked away in the far southwest corner of Sequoia National Park, this 10-site, tents-only campground is fairly isolated and has no potable water from October to May. It sits at 3,600 feet, meaning it's more oak habitat than evergreen. But it's open year-round and may have a site when others are full.
Potwisha
Potwisha lies in an oak-shaded setting in Sequoia National Park on the Middle Fork of the Kaweah River. As the lowest campground in the park (2,100 feet), it's likely to be the warmest as well, at any time of year. It has 42 sites, some of which can be reserved year-round through recreation.gov.