This post is part of Just Ahead's Joshua Tree Trip Planner—our guide to everything you need to know to plan your trip to Joshua Tree National Park. Click here to see the complete series, and be sure to download our Just Ahead smartphone audio tour of Joshua Tree before you head to the park.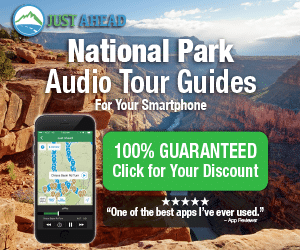 Joshua Tree is a remote desert park. You'll be far from any services most of your time in the park, even though its northern fringe is near small towns. So to prepare for a trip to Joshua Tree, it's wise to plan for these issues:
Dehydration
You lose moisture from your body in the dry desert air no matter what the temperature is or how active you are, which is why dehydration is a year-round concern. The solution is simple, of course—carry and drink plenty of water. Drink regularly, even if you're not thirsty. You'll need at least a gallon per person per day—twice that if you plan to bike, hike, or climb. Carry water with you whenever you leave the car. Remember, water is available only at Black Rock, Cottonwood, and at the Indian Cove ranger station, so stock up before you venture into the heart of the park.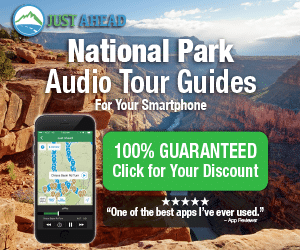 Weather
Joshua Tree has weather! Summer in the park can be extremely hot. Winter can be chilly, and it can snow (though rarely). Winds in any season can whip up a fury that can blow away tents. Rainstorms can cause flash floods. Always be aware of the weather forecast and come prepared for the weather to change. Click here for more about the seasons in Joshua Tree.
Flash Floods
Flash floods occur occasionally, particularly during late-summer thunderstorms, and can temporarily wash out roads. The Joshua Tree National Park homepage posts daily alerts regarding weather and road closures.
Lack of Mobile Phone Coverage
Don't count on making phone calls or using the Internet in Joshua Tree. Mobile phone reception is nonexistent in most of the park. You might get a weak signal in a few areas. As we note in this post, it's important to make sure your vehicle is in good working order. Finally, remember that the Just Ahead app does not require an Internet connection or a mobile phone signal. We're with you every step of the way!
Lack of Services
Joshua Tree National Park has no stores, gas stations, or food service once you're inside the park. Come prepared with everything you need and some extras in case you encounter an emergency. Our Just Ahead audio tour reminds you when and where to make your final stop for supplies.
Desert Sun
The desert sun is powerful—all the more so because much of Joshua Tree is above 3,000 feet. And Joshua trees may be beautiful, but they don't create much shade. A broad-brimmed hat, protective clothing, sunscreen, and sunglasses are always in order in Joshua Tree.
Joshua Tree Packing Checklist
We use this basic checklist as a starting point for our trips to Joshua Tree National Park. Obviously, if we're camping, rock climbing, bicycling, etc., this list expands, and winter requires extra clothing.
Water—at least one gallon per person per day
Food—more than you think you'll need
Ice and ice chest
Sun hat and sunscreen
Sunglasses
Sturdy footwear
Daypack
First aid kit
Hand purifier
Pocketknife
Smartphone or tablet (loaded with Just Ahead, of course)
Cords to charge smartphone or tablet in car
Camera
Binoculars
Notebook
Flashlight or headlamp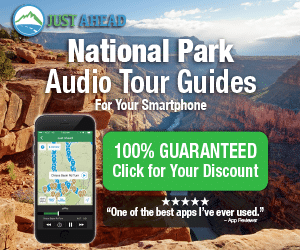 To see our complete Joshua Tree Trip Planner series, click here.
If you're headed to Joshua Tree, count on Just Ahead to guide you to the park and to all the great sights within its 800,000 acres. Our app turns your smartphone into an audio tour guide that narrates everything you're seeing along the way. It's the best way to get the most from your visit. Click here to try Just Ahead for free.