This post is part of Just Ahead's Death Valley Trip Planner—our guide to everything you need to know to plan your trip to Death Valley National Park. Click here to see the complete series, and be sure to download our Just Ahead smartphone audio tour of Death Valley before you head to the park.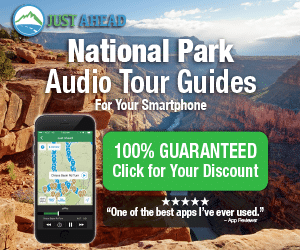 Death Valley has 12 campgrounds—nine operated by the park service as well as three private campgrounds. With the exception of Furnace Creek Campground in the heart of Death Valley, all park service campgrounds are first-come, first-served. Furnace Creek accepts reservations through recreation.gov. For holiday periods in winter and spring, be sure to make reservations or arrive early to get a site.
Don't expect shady campsites strewn with pine needles. You might get a scrap of shade from a mesquite tree, but for the most part, Death Valley campsites are open and exposed. The exceptions are the two high-country campgrounds in the Panamint Mountains—Thorndike and Mahogany Flat. But those campground require high clearance and sometime four-wheel drive to reach.
When to camp is also an important consideration. Click here for our advice about when to visit Death Valley. And if you'd like to spend some nights in the comfort of a lodge room, click here for our advice about where to stay in Death Valley.
Here's our rundown of campgrounds in Death Valley National Park. All are open year-round unless otherwise noted. For more details, see the camping page on the park's website.